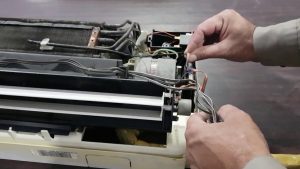 AC Repair
Turn to us for residential, commercial and/or industrial AC sales, installations, repairs, and services. No matter what kind of system you have, depend on us for complete repairs. We may not be able to control the weather outside of your home, but we can certainly make sure that you are comfortable inside your home with our dedicated air-conditioning repair services.
Your home is your domain. If you notice that your air conditioner is giving you problems (leaking, whistling, blowing hot air, etc.), give us a call as soon as possible so that we can come out and offer our repair services.
Don't wait until your air conditioner completely breaks down and costs you thousands of dollars. To learn more about our AC service and repair, get in touch with us today.